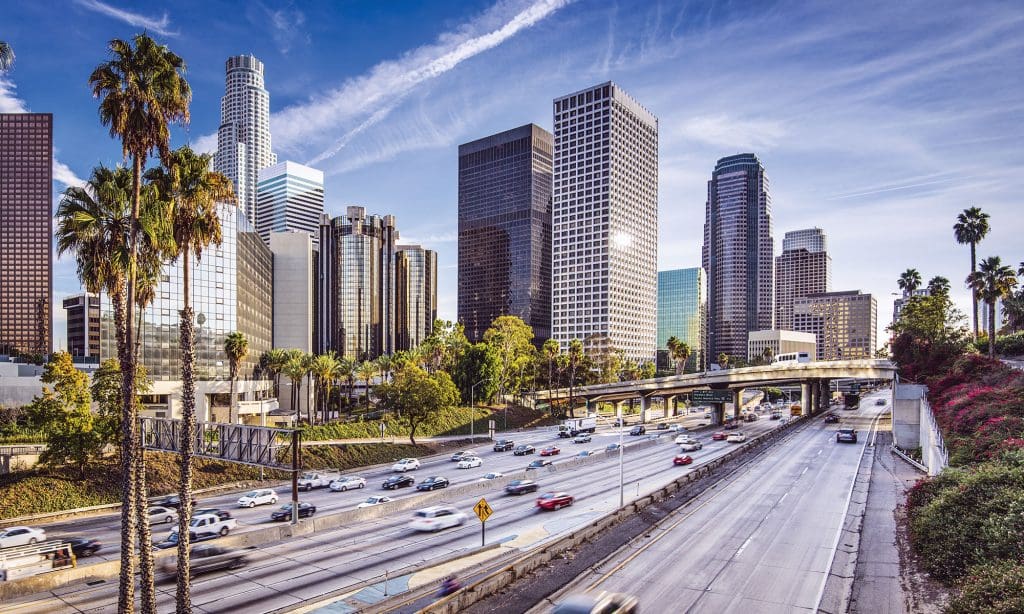 As part of our Mission Possible campaign, edie brings you this weekly round-up of five of the best sustainability success stories of the week from across the globe.
ENERGY: California to double renewable generation capacity by 2030
California already produces more renewable energy each year than any other US state, playing host to thriving solar and geothermal sectors.
This week, the state approved a new emissions target for its energy sector – a 56% reduction by 2030, against a 1990 baseline, up from the previous 40% reduction. In order to meet the new target, state lawmakers claim, renewable energy generation capacity will need to be doubled within the next decade.
California currently plays host to around 26GW of renewable energy and battery storage capacity. Meeting the new emissions target will require this figure to surpass 51GW – of which at least 8,900 MW should be accounted for by battery storage capacity.
Elsewhere, meeting the target will require an effective ban on new gas plants unless they use biomethane.
RESOURCES: Recyclable and reusable quad bike battery pilots begin
For all the benefits they will have in decarbonising the road transport sector and mitigating air pollution, electric vehicle (EV) batteries are set to cause a sizeable waste problem in the near future, given that systems of reuse and recycling are broadly in their relative infancy. Research by the University of Birmingham last year concluded that that the one million EVs sold in the UK in 2017 alone will generate 250,000 tonnes of battery waste when they reach the end of their lives – likely in the early-to-mid-2030s.
Battery firm Aceleron is one of several working to innovate their way out of this issue. After developing a modular EV battery without glue or welding, Aceleron this month began a partnership with e-quad bike manufacturer Eco Charger to test "bespoke" versions of the innovative battery in these vehicles.
The batteries are half as heavy as the lead-acid models typically used by Eco Charger, Aceleron claims, but four times as powerful. Crucially, the batteries can be remotely monitored using intelligent management software, meaning it will be easy to see when components need upgrading or replacing. While most EV batteries come with an eight-year warranty, Aceleron believes its innovative model could last up to 24 years in an Eco Charger vehicle, provided regular and timely maintenance is undertake.
"By choice or by law all industries will soon have to decarbonise," Eco Charger's chief executive Jon Hourihan said. "Aceleron's batteries demonstrate that tailored engineering can provide low-carbon solutions across all e-mobility scenarios."
MOBILITY: Toyota to develop heavy-duty fuel cell truck
As a general rule of thumb, the heavier a vehicle is, the harder it is to electrify using traditional battery technologies. Several automotive giants, including Daimler, Hyundai and Nikola Motor, are, therefore, betting heavily on hydrogen fuel cells to decarbonise their HGV offerings.
The latest news in this space comes from Toyota, which, after unveiling plans to re-open its former vehicle production plant in Altona, Australia, as a hydrogen production and fuelling facility, has begun work to develop a heavy-duty fuel-cell truck through its Hino Motors arm.
The project will see expertise and technologies from Toyota's Mirai model applied to the HGV context, Toyota said in a statement. The firm expects that, by equipping the new powertrain with two "next-generation" fuel cell stacks and designing its chassis to optimise weight reduction, load capacity and fuel cell housing, the new truck will achieve a range of 370 miles.
"In order to achieve broader reductions in CO2 emissions, major improvements will be required in the environmental performance of heavy-duty trucks, which account for about 60% of the total CO2 emissions from commercial vehicles operating in Toyota and Hino's home market of Japan," Toyota said in a statement. The statement did not, however, confirm any timeline for the innovative truck's launch to market.
THE BUILT ENVIRONMENT: EIB signs €250m cheque for green homes in Paris
As is the case here in the UK, residential buildings in France account for around 40% of national energy consumption annually and about a quarter of national annual emissions. Given that France legislated for net-zero by 2050 independently of the EU's Green Deal, tackling emissions and energy from homes will be crucial.
A positive announcement in this space came from the European Investment Bank (EIB) this week, as it unveiled a €250m package for housebuilder in'li. The money will be used to develop 2,580 new homes in Île-de-France, Paris, all of which will comply with France's RT2012 standard. RT2012-certified buildings must be independently verified as energy-neutral.
Aside from their environmental benefits, the European Commission said the homes will benefit around 6,000 middle-income residents and create around 5,000 person-years of employment during the implementation phase alone.
"In this context, supporting the housing and construction market in Île-de-France via this loan to in'li addresses three priorities: improving the job situation, reducing the energy consumption of homes and providing SMEs in the building sector, in particular, with enough business to facilitate their recovery," EIB vice-president Ambroise Fayolle said.
BUSINESS LEADERSHIP: Allbirds donates 2,000 pairs of sustainable shoes to NHS workers
In responding to the coronavirus pandemic, many big businesses have sought to couple community giving with resource efficiency or waste mitigation. The likes of McDonald's, Harrods and Greggs all increased their community food redistribution efforts as they prepared to close their doors to the UK public, while brewing and perfume giants have begun pivoting manufacturing lines to make hand sanitizer with surplus alcohol.
Elsewhere, in the knowledge that sales and volunteering hours alike are likely to fall in the coming weeks, several B-Corps which pride themselves on manufacturing sustainable and ethical products have begun offering them for free to NHS workers. Among them are feminine care product brand DAME, known for its organic cotton products and reusable bioplastic tampon applicator, and shoe brand Allbirds, which uses only responsibly sourced natural materials in its products.
Allbirds announced this week that it will give 2,000 pairs of its shoes – which boast sugarcane-based soles and uppers made from either certified merino wool or Tencel – to NHS workers for free. Each pair typically retails for around the £100 mark.
"It's a small token to support some of our front line workers who are putting in long hours, facing tough working conditions and putting their lives at risk to keep the rest of us safe and healthy," Allbirds said in a statement.
Source: edie.net – all the latest news